---
3 Day VIP "Speak + Get Booked Intensive"
Toronto
---
The Only Event Designed to show you exactly how to Create a Solid Speaking Platform, Position, and Brand yourself to easily get BOOKED, Double, Triple (or even Quadruple) Your Income With Speaking and have you booking speaking engagements in just 2 Days 
Optional 3 Day VIP:    In addition to your 2 days, leave with your customized and completed Speaker Promo Video, Professional Photos, Customized Speakers Bio, Custom Designed One Pager, Custom Designed Speaker Website and more (as listed below in the VIP area)

……………………………………………………………………………
I know what you are thinking: "Is it really possible to Double, Triple and even Quadruple my monthly income with speaking?"
Fabulous question, I have been showing my clients how to do exactly that over the past few years…
There are 4 main reasons why our clients can get these results in 30-60days… here they are:
A Learning Environment Specifically Designed For Action Taking And Immediate Results
– by learning and using the skills and systems needed for success during the event, you start to reprogram you and your current habits for immediate and long-term success by doing the right things.
Step by Step Practical information used by current professional speakers
– by using strategies and tools used by speakers who speak upward of 20 times per year right now, you can't lose. The next best thing besides experience is having a mentor who is doing exactly what you want to do.  That's what you will have access to over the 2-day event
Constant Feedback For Immediate Improvement
– by being around an expert who speaks and get booked and who can teach you to do the same, your learning curve just about becomes a straight line.  You get immediate feedback on your speaking, your positioning, your content, your marketing your, everything…so it's hard not to succeed.
Daily Accountability for Daily Results
– when you start seeing people in the group making calls, sending emails to get booked and conversations started to secure bookings while still at the event, it shows you what's possible…These are results that you too can get by using the exact steps we teach you each day.
Everything is set so you can have the success you have been wanting…you will have everything you need and be surrounded by the right people who are ready to show you exactly what to do to quadruple your income through speaking in 30-60 days (in most cases even sooner)…There's just no other option but for you to succeed…all you need to do is make the right decision to be there.

……………………………………………………………………………
2 Day VIP "Speak + Get Booked Intensive"
Toronto
……………………………………………………………………………
Here's what clients have said:
"Karen simply wills you, not only to understand, she shows you how to be an effective speaker
and leader with simple and practical approaches."
– Gary Lucas, President, Elearning Multimedia Creations
"Karen was dynamic, enthusiastic and inspiring and the most important thing that I learned was how to develop a powerful connection with people."
– W. Banting, President, Secural Datashred Inc.
"I LOVED that when Karen shared a strategy I could put it into practice right there, I saw and felt the difference right away.
Karen taught me the importance of and how to engage PEOPLE not only clients within the first 30 seconds."
– J. Singh, Financial Professional
"One of the most important things that people should know about working with Karen Donaldson is that she will push you in areas
of excellence and not take your excuses. Karen is positive but firm and you need to be prepared to work, change, and grow. Karen provides excellent service because I have been speaking publicly for many years but there were areas that I needed to improve on and the growth that I have made is remarkable"
– Ontario Senator
……………………………………………………………………………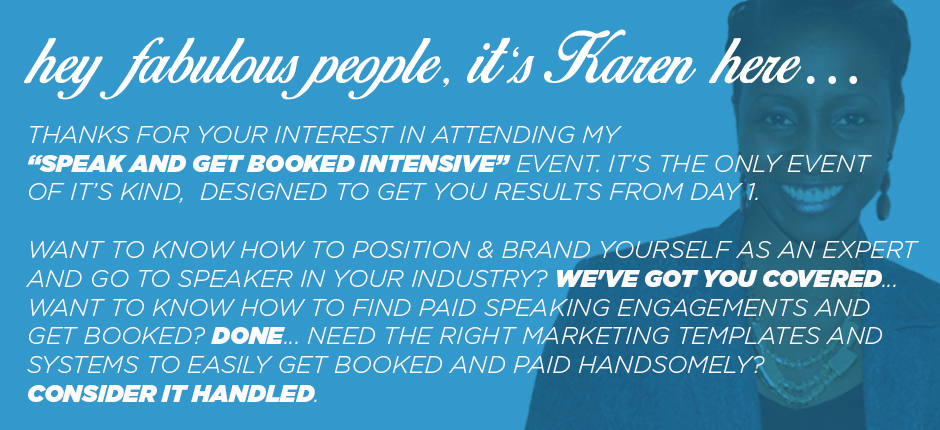 ……………………………………………………………………………
If you want 'A RAH RAH' session, with talk, talk, and more talk, this is not the event for you!
On the other hand, if you want tangible RESULTS, and you want to know how to own the stage with your talk, share your offerings, get booked and re-booked AND turn a FREE speaking engagement into a 4 or 5 figure day… then you're in the right place.
Here's what we're doing…

We're going to spend 2-3 days here in beautiful Toronto, Ontario, Canada (depending on what package you choose) with ONE primary focus:
Create your entire professional speaking platform, marketing, etc.with you that has the potential to get you booked and bringing in an extra 4 figures a month or more in revenue each month.
If You Have An Expertise In An Area, And can Help People Whether It Be With Your Services, Your Experience, Your Products AND Want To Add "Lucrative Speaking" To Your Business Model, You Owe It To Yourself To Be Here.

……………………………………………………………………………
Here's who I've helped before:
Life Coaches
Business Coaches
Leadership Coaches and Trainers
High-Performance Coaches
Professional Speakers
Financial Consultants
Mortgage Broker
Real Estate Professionals
Sales Professionals
Accountants
Authors
Bricks and Mortar Business Owners
MLM professionals
Dance Instructors
C – Suite Executives (CEO's, CFO's, VP's, Superintendents etc.)
Leadership Coaches and Trainers
Doctors
Graphic Designers
Interior Designer
Staging Professionals
Athletes
Radio and TV Announcers
Heart Centred Business Owners and service provider
And much more…

……………………………………………………………………………
Here's what we'll cover during the  3 Day
"Speak and Get Booked Intensive" event…
……………………………………………………………………………
Module #1: You
– This is the most important part.
– The mindsets and habits that got you to where you are NOW is NOT going to get you to where you want to go.
– If you want to get to the next level, you need to UPGRADE your mindset and an internal script about yourself as a speaker.
Module #2: Your Positioning
– Are you selling you or your topic? There are 10 plus ways to position yourself.
– How to position yourself to demand top booking fees
– I'll teach you the 6 'Psychological' TRIGGERS that magnetically attract clients to you before you finish speaking.
Module #3: Your YOUnique Talk
– Your YOUniqe talk
– Your Promise statement
The #1  thing you should never do at the beginning of your talk
– Bringing yourself to the stage.-
– I will share the YOUnique talk blueprint so you can create a talk that will build you and your brand as a speaker.
– So you don't have to always have to compete, convince, and struggle to get people to pay you what you're worth.
Module #4: Your Market
– Defining who your message is a fit for.
– Defining their biggest pain points wants and needs.
– Defining you market(s) on 3 levels: demographics, psychographic, geographics.
Module #5: Marketing
– This is a VERY important piece of the whole process. Event coordinators look for specific things
when booking a someone to speak at their event.
– Also, a lack of certain things put up a red flag for them and have them run in the opposite direction.
–  I'll teach you how to turn free speaking engagements into big paydays.
–  You will learn tools and secrets of professional speakers.
Module #6: Essential Speaker tools
– Setting your fees and different fee structures.
– One-pager.
– Promo videos.
– How to make yourself easy to book and easy to work with.
Module #7: Finding Speaking Engagements
– After we spend time narrowing down who your target audiences are, we dive deep into showing you exactly how to find paid and
non-paid speaking engagements, in different markets…so you can get booked.
Optional  3 Day VIP:    In addition to your 2 days, leave with your customized and completed Speaker Promo Video, Professional Photos, Customized Speakers Bio, Custom Designed One Pager, Custom Designed Speaker Website and more (as listed below in the VIP area)
……………………………………………………………………………
UNFORTUNATELY, THIS WORKSHOP IS NOT FOR EVERYONE…
I don't care if you have all the money in the world… for us, character and core values are more important than money.
Just because you can afford the workshop, doesn't mean you'll get accepted. You have to fit the requirements we have below:
You must have an existing product, service, talk, area of expertise, message that you are passionate about that you
know can help people…or has helped people and gotten them results. 
• You must be confident in your ability to help people.
• If you're brand new, or starting out with no products or services, then what you're
planning to teach or offer must, AT LEAST, has to work for you.
• You must want to take your expertise or message to larger platforms; conferences, workshop, seminars, AGM's etc
• You must be a massive action taker.
• You must operate with TOTAL INTEGRITY and ACCOUNTABILITY both personally, and professionally.
• No negative people… You must be a positive thinker.
• You must be coachable, and be willing to follow instructions.
• You have to be okay with others holding you accountable and pushing you to work outside of your comfort zone
• You have to be 'growth oriented'
……………………………………………………………………………

…………………………………………………………………………….
Sound like you? Keep reading…
Here's How the Intensive Works 
First, We Start Off At one of Toronto's Most Elite Locations.
The 2 Day intensive location will be revealed to you once you have been accepted into the program.
We Start Working BEFORE the Workshop Even Begins… Let Me Walk You Through the Entire Intensive Experience…
Once you get accepted to the 2 days intensive (yes, we have an application process) the work officially begins.
• My fabulous assistant will get in touch with you, and have you fill out a detailed form regarding your speaking goals. We need this form filled before the event so that I can understand your area of expertise at a deeper level before the event… and so that I can SERVE you at the highest level during the event.
• After we receive your form, you will be getting a 1-on-1 call from one of my 'Master Speaker Experts' so we can start diving deep into you creating your speaking platform, and start giving you some direction, along with some ACTION STEPS you can complete before the intensive begins.
• As an added bonus (also depending on when you sign up for the workshop), you'll be able to get access to my WEEKLY coaching calls BEFORE the workshop… just so I can give you some personal, 1-on-1 attention via my 'HOT SEAT' group coaching call. I'm big on getting you results FAST, so if I can get you some form of the result, or progress before the workshop… I WILL.
• Also, my assistant will be in touch with you to offer some help in finding flights, and hotel accommodations for you if needed, we like going above and beyond, so you'll get 5-star concierge level service with us. Also, since we cover lunch during both days, my assistant will be connecting with you to go over food preferences.
……………………………………………………………………………

……………………………………………………………………………
Throughout the two days you will be:
• Removing mental and emotional blocks about speaking in large crowds. We will alter the image you have of yourself as a speaker.
• You will be expertly crafting your Younique talk, 60min, and 30min lengths, so that they connect, engage,    Inspire and close without being salesly
• You will be creating  your YOUnique talk, including your personal presence, body language and more
• You will have your talk recorded, replayed and feedback given..
• You will have templates to create your essential speaker resources.
• You will define your target audiences, know exactly how to reach them and send out communications to get booked – right there at the intensive (remember I'm all about getting you results)
Yes, there is a science to delivering a talk so you get booked and re-booked over and over again.
Yes, there is a science to making more money from non-paid events than from paid speaking engagements.
Yes, there's a science behind speaking and getting paid that makes it PREDICTABLE… you can't just 'wing' it…
You need to know what you're doing.
This 2 Day intensive will teach you science to achieve exactly that!
……………………………………………………………………………
You will leave with:
– A professional speaker platform.
– A solid and authentic speaking persona.
– Solid branding and positioning.
– Your YOUnique talk including your promise statement to help brand you as the go-to expert and speaker in your industry.
– "Essential" speaker documents to get you booked.
– Having reached out to events to get booked to speak.
– The know how to find paid speaking engagements.
– A short list of potential events to reach out to.
– A thirty day plan to get booked solid.
– Concrete templates to get booked solid.
– 1 private coaching call (after the intensive) to help support getting booked
– For the serious no excuse action takers, a potential booking to speak.
……………………………………………………………………………
JOINING US AT THE VIP LEVEL? THERE'S MORE…
Optional  3 Day VIP:    In addition to your 2 days, leave with, Professional Photos, Customized Speakers Bio, Custom Designed One Pager, Custom Designed Speaker Website and more (as listed below)
If you're a part of our VIP level, then we go out to dinner and spend more time together so I can give you more personal attention… also, you will receive DONE FOR YOU Services: a professionally written bio, a custom designed one-pager, action phot's to be added to your materials, branding for all of your social media platforms, my implementation team will be at the event, so if you're a VIP, we can give you more personal feedback on your entire talk and marketing process, creating customized emails and email campaigns, and offers outside of your talk to leverage your expertise and bring in even more revenue… and make sure it's the BEST it can be…
Interested? Ask about the VIP Level at your interview to find out more
……………………………………………………………………………